Once You Register, You'll Have Instant Access to Toby's:
Patriot Fit" Private Online Training site
"Wake Up Call" T-Hormone Boost Workout Training Series (Video Option Available)
Men 55 Plus Nutritional Guide & Shopping List
Private Facebook "Patriot Fit" Coaching Group For Men 55 Plus
ONE (1-On-1) Private Training Call
Email Coaching, Support, And Mentorship
Registration to the 14-Day Patriot Fit Challenge & A Shot To Win our "Grand Prize"
Best Deal: You Save $249
Pay one-time charge of

$37.00

Today
Best And Most Manly Deal!
REAL-LIFE HEROES WITH
EXTRAORDINARY RESULTS
It's Like I Hit My Second Puberty At 53!

I've been doing Toby's Patriot Fit workouts every morning for about 2 months, and I feel a new surge of energy rushing through my body every morning.
In fact – I've cut down to just one cup of coffee a day and falling asleep like a baby at night.
And to my surprise, I've even been waking up with a morning rise in that one particular male body part.
Man, it's like I'm going through puberty again, but in my mid 50's!
Heck, my stomach has flattened, and I could fit in my size 32 jeans again!
This is all the proof I need to know my test levels are rising… literally!
As a man over 50… You have to do this for yourself to understand what I'm talking about and what I'm feeling!"

Sunny Dominguez

My Middle School Son is No Longer Embarrassed To Be Around Me.

"I take my son to middle school every morning, but about 4 months ago, he started telling me to drop him off about 4 blocks away.
I started thinking that he was selling drugs or skipping school somehow…
But then I found out from his friends that kids were making fun of him because of how overweight his father was and that he was too embarrassed to be seen with me.
That broke my heart into millions of pieces…
And that's when I decided to get in shape at the age of 52 and discovered Toby's Patriot Fit program.
Now I know losing weight and correcting my body is a long journey, but I'm so excited about the rapid changes I've seen in just the last few months.My waist has shrunk, and my joints don't hurt like they used to… since I'm so much lighter.
I've never had the motivation to improve my body and health… but as the leader and father to my family, now I know that improving my body is not just for us; it also affects those who love and depend on us. "

Kris Campbell

My wife called me a "LION" last night in bed
– I don't feel a day over 50 at all!

Now that I've been doing Patriot Fit for the last 10 weeks, my wife said it'd turned me into the Lion I once was in bed!
And this is a plus since I was just expecting to lose a few pounds of belly fat that I've been struggling for the past decade. (which I'm currently seeing tremendous results)
On top of that, I had no idea that belly fat can shut down our male test production and even cause those embarrassing manhood problems in bed.Lastly, I have little to no workout experience since I've always just played golf for exercise…
Toby's program helped me jumpstart my health, gave me back the strength and masculinity I've lost through the years.
And at the age of 50, with my new found strength and flexibility, I'm driving the ball so much further than when I was in my 40s… and all my out of shape golf buddies can't figure out how!
Man, it feels great to have that boosted testosterone edge, and to do it all naturally!
Listen, no one is sticking a needle in me!
Now tired of beating my buddies in golf, so I'm going to be sharing this Patriot Fit program with my friends…
And if you are looking for the competitive male edge – don't think – just do it!

Erik Nanyes-Wolverton

If You Still Haven't Sign Up For The "14-Day Patriot Fit
Challenge," Then You Must Have Some Questions
I Still haven't answered for you…
Frequently Asked Questions
(& Toby's Answers)

Q: Toby, so you are giving me the male hormone support workouts, eating guides, and all the other training tools for Just $37 instead of the regular price of $249? What's the catch?
A: YES, you can have all the workouts, the bonuses, and join the Challenge for just $37 (over 85% off), and promise me you're going to give it all you've got!
Listen, theres no catch… no hidden fees, no recurring rebills… only 100% results!
On top of that, everything comes with a full satisfaction money back guaranteed!

Q: WOW! First Off Toby, I want to say thank you as you are truly an American Hero for your years of dedicated service to our country, and for providing a Free program for men our age who really need it the most. Could you just tell me a bit more of what I'll get today?
A: Once you register, you'll get instant access to Toby's entire 14 -Day Patriot Fit Challenge & Free Training Bonuses which includes:hose who are serious about getting a ripped muscular body after 55 are encouraged to sign-up through this page as soon as possible (before your spot gets taken and your discount expires).
Here's everything you get WITH PATRIOT FIT…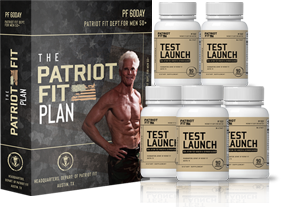 NEW "Patriot Fit Plan For Men 55 Plus"

(Coming Soon)

FREE
One Year SupplyOf My All Natural Male Hormone Support supplement!FREE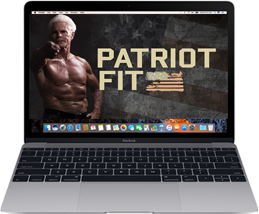 Get Instant Online Access Your Own "Patriot Fit" Private Member Training site where you can access your 14-Day training guide, *videos, and bonus content anywhere at any time.

(Value: $37 per month)

(Now: Included with life-time access – zero monthly fees)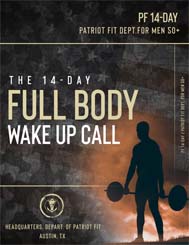 14-day "Full Body Wake Up Call" Morning Workout Program (**No Equipment Needed**)designed to reignite your fading male hormone production, active lethargic muscles, and help boost our fat-burning metabolism!

(Value: $47 per month)

(Now: Included)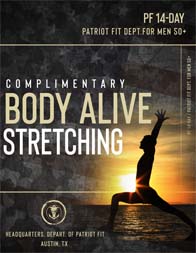 14-Day Men 55 Plus Nutritional Guide designed to help keep your body in a muscle-building, fat-burning, and hormonally optimized state for good!

(Value: $27 per month)

(Now: Included)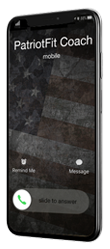 FREE One-On-One Private Personal Coaching Call. Help personalize the program to your unique and specific needs for faster results.

(Value: $97/hour)

(Now: Included)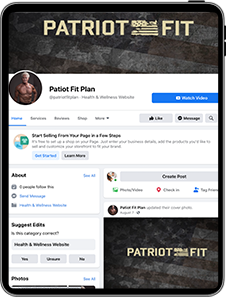 Exclusive Membership to my private Facebook Patriot Fit Coaching group for men over 55. You'll join a united community of men over 55 – all working and striving together to get in shape and enjoy life with optimal health.

Value: $19 per monthly

(Now: Included with life-time access – zero monthly fees)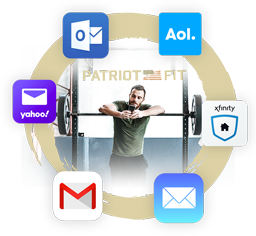 Receive Free Email Coaching, Support, and Mentorship to keep you motivated, committed, and constantly learning new scientific discovery and tactics we as men can apply daily.

Q: Captain Toby Buttle, as a vet myself I'm so excited to try these mental & physical enhancing workouts similar to what we once did in our heydays during our service… Now, what if I don't see or feel the results I truly want?
A: Yes Sir, I have that covered! Now, even though you'll be getting the entire workout program, I'll still give you my 100% money-back guarantee. Again, If you are unsatisfied with the program for any reason within the next 60 days, you can reach out to me and my customer care team for a full refund.
Now all I ask is that you let me and my team do our very best to solve any issues you may have, and if we are not able to fix the issue, I'll personally make sure you're refunded asap. And, yes that also applies to those who upgrade to the video version.
You're Fully Protected By Toby's 60-DAY 100% MONEY BACK GUARANTEE!

Q: Once I claim this Exclusive discount and offer, how long do I have to wait before I can start training with Toby?
A: I've made this program digital, and you'll get instant private access as soon as you sign up… so there's no wait at all! Once you claim the program you will receive a login e and password on the receipt page and or by email so that you can log in and get started immediately.
You can log into the member site on a desktop, laptop, tablet or mobile phone device. So you don't need to wait for DVD's to be shipped out to you – with our digital member-site, you will have instant access to all of the contents of your 14-Day Patriot Fit Challenge anytime, anywhere.

Q: I live outside the United States, could I still join and train with you on the 14 -Day?
A: HELL YES, All Men are created equally – It doesn't matter where you're from or where you are currently at. All you need is a computer and or a mobile device with internet access to get started with the program. Remember, once you sign up, you'll get instant online access to the entire program – at which you can start training immediately.

Q: Toby, I'm more of a visual learner, are the workouts available in video form as well as a digital Training guide?
A: Yes, I've also set an option above where you can upgrade for just $14 to also get the entire workout series in video form on top of the FREE visual 14-Day Patriot Fit Challenge Training guide. And the reason why many of my most successful clients upgrade to videos is because I'll provide live demonstrations of the workouts, and give you train-along male hormone boosting tips you can apply as we go.
And you can access these crystal clear high definition videos in the same member site as you would with the Free Program.
Now just to be clear, you don't need to upgrade to get started or to get in shape… In my Free Training Guide, I have all the exact same workout broken down and illustrated for you.
I made the video purely for those who are visual learners like me (and perhaps you) who would simply rather train along with me live.
Again, you can access the tools you have on your phone and on practically any mobile devices such as an iPad or tablet. Just make sure you have internet access and log into your Patriot Fit member-site with your secret username and password, select the respective workout video or guide and start building your new masculaine body even after 55!

Q: Question #7: Do I need to sign up for a gym or buy any expensive equipment – I really don't feel comfortable leaving the house these days with the pandemic going on?
A: No Sir, I designed this program exclusively to be done all at home with no equpemtn. However, if you would like to make this program a bit more challenging, I suggest just using a pair of dumbells (10 – 15 lbs) and incorporating it into the appropriate workouts

Q: Could I still get the workouts, nutrition guide, free coaching call and all the other tools Free, if I sign up tomorrow?
A: The 14-Day Patriot Fit Challenge is a Limited-Time Exclusive Online special, and is only guaranteed till midnight tonight. My Coaches and I will only be able to manage and support a very limited number of clients, therefore those who are serious about getting a ripped muscular body after 55 are encouraged to sign-up through this page as soon as possible (before your spot gets taken and your discount expires).